Here's a robot that is not very popular, but it has some real good points. With its 26 cm tall and 40 cm wingspan, this mecha has a big presence on a display.
It transforms in dragon mode, and the overal quality is very good, you even have big diecast parts on the legs. The paint is subtle, made with aerograph, not by a vulgar wash or ink. You have limited accessories, just the sword, alternative hands and the cloak Escaflowne usually wears (I've put the dragon wings 'cause I love winged robots :) ). This robot is very stable due to his heavy legs.
On the down side, I'd say that some plastic parts can be lost easily (knees...), and the torso is sometimes "loose" so beware.
But for the small price, you have a big, quite impressive and well done robot !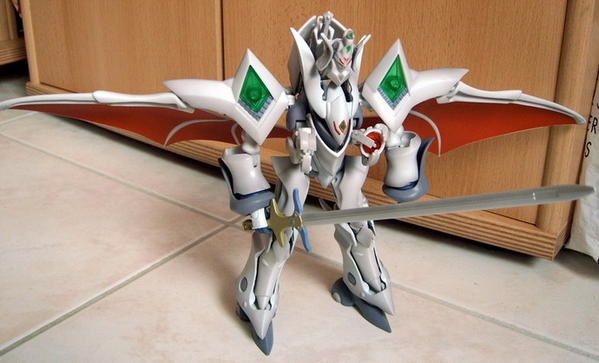 Don't hesitate to leave a comment to react, if you like it or not. More pictures here and here.
and