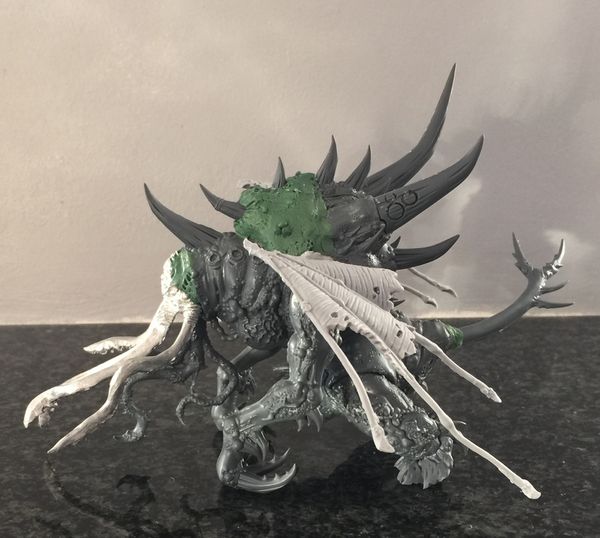 As I told you earlier, I had another conversion in mind with the new Nurgle releases for Warhammer : this time I'd use the Maggoth Lord's mount, that would make a great Cthulhu-inspired chaos spawn, so it can also be used as Star Spawn of the Great Old One.
I've chosen the model with a mouth on the belly and the poison spitting head for the 2 venom glands it has; then I removed the rider, covering the saddle with Green Stuff, and I copied the texture of the beast, with bubbons. I added a tail from a manticore, wings from a Jabberslythe, and the tentacle head from Reaper mini's Kraken. Bestial and misshapen look, perfect for a spawn, isn't it ?
Now it's ready to be painted, so stay tuned for this, it shouldn't be long...
A few words about the coming months : I'll show my take on the GW chaos spawn kit soon, then I have ideas for 2 more Cthulhu models, using a river troll and also the upcoming model from Studios McVey's 7 Sins (Pride !). Expect also some tyranid stuff with a mix of Toxicrene and Haruspex, plus a revamped 2014 edition of my first Hive Queen... also my 2 kick starters : Cthulhu Wars minis should arrive, followed by Creature Caster's demons. OMG so much work, I'm crazy !!!