I took a long time, I had to face a slowing in my motivation, but now it's done ! What's "it" ? My aura battler Zwarth resin kit from SAE, customized to look like a Zwauth aura battler (the zwarth is in the anime, the zwauth in the OVA, he has batlike wings instead of fly wings + a big tail).
He comes just one year after my first garage kit, which was also a zwauth aura battler (yes, I like these things a lot :) ).
The wings came from a devilman figure. I had thought to use balrog wings from GW but they were way too small, as this beast is huge : 15 cm to top of head, 21 cm overal height, and 34 cm wingspan ! The painting was inspired by the original Zwarth from SAE and by the Zwauth from the OVA.
Paints used were Games Workshop acrylics, with new foundation paints, a black basecoat from GW (works great !) and acrylic medium to thin and help blending...
Once again, special thanks to Masayuki for finding me this kit on Yahoo Japan, it wasn't available on ebay nor even as recast on Hobbyfan or E2046.
Now let's look at the battler :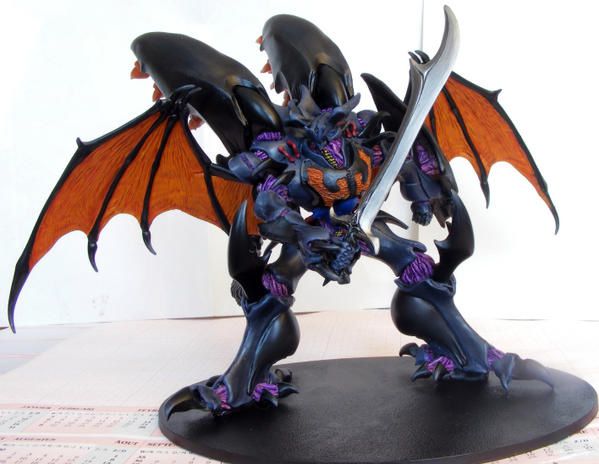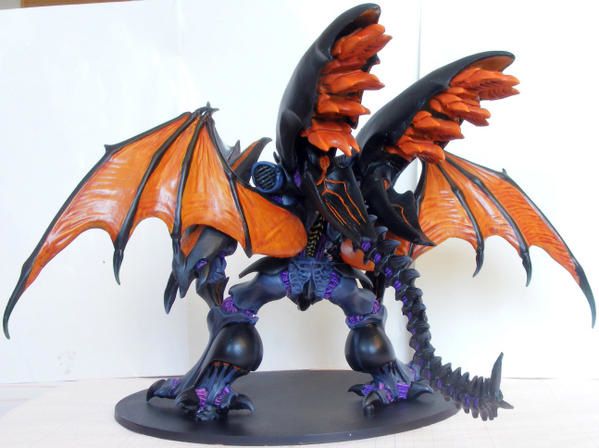 More pictures are available in the Mecha gallery :
front
,
right side
,
3/4 back
,
left
and
front left
. Hope you like it, comments are welcome !
Now look at Daddy Zwauth with his two boys :)