At last ! Here's my first EX Gokin model from Fewture, the Great Mazinger 1969. I wasn't really fan of the Bandai SOC version, but I fell in love whit this awesome version from Fewture. The design is completely redone, way darker, more intimidating, nearly evil. It has a more technological look, making it even more "real".
And I wasn't disappointed when I got it. Very, very nice packaging, coming with design notes from M. Taku Sato.
Then the gokin himself : heavy, shiny, perfectly finished, and measuring about 24 cm high. Sharp details, stable even without its stand, it has a lot of presence.
Diecast is everywhere : whole body, legs and arms, rest is ABS/PVC.
The joints are numerous and strong, they have a real quality feel.
As accessories you have the sword which can be combined with Mazinger's one to make a big double edged sword, various hands, forearms with magnets, two Brain Condor (normal and with folding wings to hold in Maz 's head, the Great Booster jet with rotary wings to attach to the back, and two front plates (red and translucent red). The only flaw I have is that I cannot open the mouth.
Killer release, this is my toy of the year 2007 !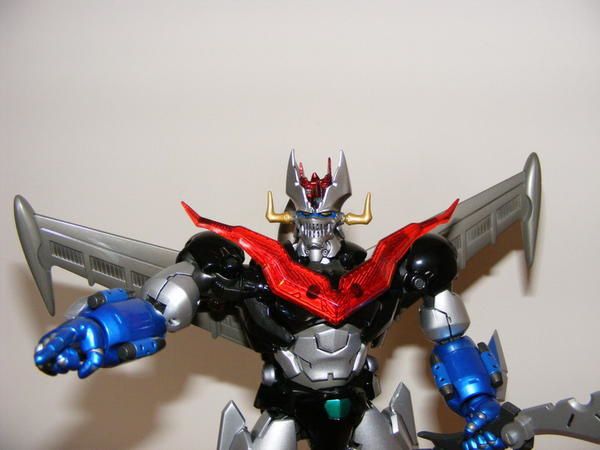 More pictures here in the gallery :
1
,
2
,
3
,
4
.