The highly expected Codex Daemon is to be released in May by Games Workshop. Nearly all the new models have been unveiled @ Games Days, so here's a summary of what to expect:
Here's the Soulgrinder, a new version of the Defiler, a the very good surprise of the bunch :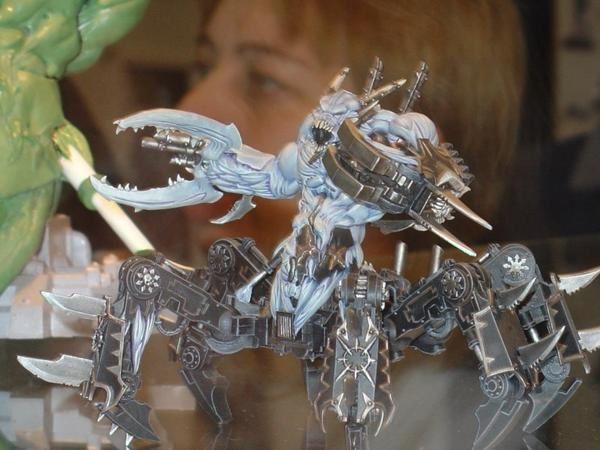 It's a plastic kit which comes with mainly Slaanesh and Khorne options.
Then some lesser daemon are redone :
Bloodletters
,
Daemonettes
,
Plaguebearers
,
fleshounds of Khorne
,
Beasts of Nurgle
,
Fiends of Slaanesh
.
We also have a new kind of demon, between Daemon Princes and lesser Daemons, called Daemon Heralds. Here they are :
The Masque of Slaanesh
,
Epidemius of Nurgle
,
Skulltaker of Khorne
. I don't know you, but I was disappointed with those releases, mainly by the lack of new greater daemons and daemon princes, but also by the designs of the heralds, who are just chaos champions mixed with lesser daemons, quite uninspired.The greater daemons only get new packages ! I don't understand GW's policy of NOT making a plastic daemon prince and/or greater daemons. They would sell a lot of them, as for the Carnifex kit, because it'd be much simpler to convert them, I wonder why GW did choose this low profile attitude when renewing the daemons range. All lesser daemons are cool though, they are quite a step back to the early glory days of Realms of Chaos, I like that. Another reflection is that the minis don't seem so well painted, check the Fleshhounds for example. Other miniatures companies present way better painted minis now...