I had long hesitations to buy this guy, after seeing it on a forum (play.com.my) I fell in love with it, but the price made me hesitate. So I waited a few weeks, and as I still longed ti buy it, that's what I did. Two weeks ago I've received from Hong Kong my Aquarion GD-99 from Bandai, got it on Ebay at a good price and shipping was very fast. Things began very well for this haul. The box is quite big : 44 x 27 x 15 cm, and is beautifully illustrated.  The design seem very similar to the anime (Sousei No Aquarion).
In the box you'll find 3 spaceships called Vectors : Vector Sol, Vector Mars and Vector Luna. These 3 can combine to make 3 different robots called Aquarion Sol, Aquarion Mars and Aquarion Luna, depending on which Vector gives its head to the robot. There are also a few parts to help the vectors holding together, a stand, 3 swords (Sol, Luna, Mars), arrows, some parts to add to the robots. Inside the box there's also the beautiful manual with full color pictures. The instructions are quite basic, you need to practice to get the full potential of this toy. It'll provide you many hours of pleasure.
Aquarion Luna (the green headed one) is a nice mech designed for distant fights, you can make a bow from his arms and use the arrows from the box. Aquarion Mars is the tallest, he's elegant due to its elongated limbs. Aquarion Sol is the most balanced aquarion and usually people's favourite, because of the well balanced design and the possibility to deploy big wings. This is the most impressive of the 3. what I love on these aquarions is the unique design, quite different from Gundams, Brave robots, Transformers or Macross, Aquarion has its own style, not copying anyone. Here's a pic of Solar Aquarion :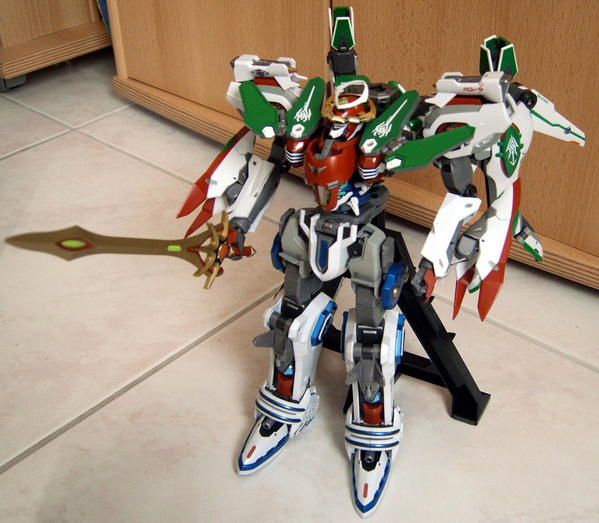 Now let's talk about the quality :Shoji Kawamori (Macross, Escaflowne) has made an awesome engineering job, the transformations are excellent, without adding or removing parts (with 2-3 little exceptions though). Bandai's quality is as good, you'll find diecast parts everywhere : the whole skeleton of each vector is diecast, the armour, decorative parts and accessories are in plastic. Not many markings, but those present are very well done. There's an incredible amount of joint, everything can be deployed, turned, and no joint is too loose or too hard. there are some magnets to attach metal parts, and some plastic pegs which can be deployed when needed to attach some elements. Paint application is very neat.
But the most exciting about this toy is that you have actually an infinity of possibilities, you can create your own patterns. Basicly, any of the 3 vectors can become arms, legs or back, and each vector has its own head. Then it's up to you to find other combinations, and with practice, ideas will flow through you as you understand its mechanics. There are a lot of panels that you can open to reveal other parts or to change the shape of the mech. You can also combine the vectors to make a bigger spaceship, or a 4 armed mech. Or even mix spaceship and mecha like I did here :
http://hellric.over-blog.com/photo-237329-aquarion-e-xp-1_jpg.html
http://hellric.over-blog.com/photo-237329-aquarion-e-xp-2_jpg.html
http://hellric.over-blog.com/photo-237329-aquarion-e-xp-4_jpg.html
http://hellric.over-blog.com/photo-237329-aquarion-e-xp-5_jpg.html
http://hellric.over-blog.com/photo-237329-aquarion-e-xp-7_jpg.html
http://hellric.over-blog.com/photo-237329-aquarion-e-xp-8_jpg.html
http://hellric.over-blog.com/photo-237329-aquarion-xp-2_jpg.html
http://hellric.over-blog.com/photo-237329-aquarion-xp-6_jpg.html
As a conclusion, this mecha is an engineering marvel, with unique desgin, good quality, and infinite possibilities : things that fully justify the big price asked. So if you love what you've seen, make yourself a favour, you won't regret it ! ;)