My collection of robots and super robots is still expanding. Here's my latest haul, the Great Baan Gaan action figure from CMS. Great Baan Gaan ("Saint of Brave") is quite popular for Japanese robots fans, but only Yujin had made it so far, in a smaller and less detailed version. What I like in this robot is of course its big wings and the small chest wings, the blades on the legs and the bow, its a shiny and original character.
This is not a toy of CMS Brave series like Genesic Gaogaigar or Gaofighgar. This one is a smaller figure, without diecast parts and without transforming capacities. I choose this because it's cheaper than the upcoming DX Baangaan from CMS, and anyway I would only keep it in the Great Baangaan form, so transforming gimmicks are not my priority. As space is also important, I was quite happy that this one isn't too big.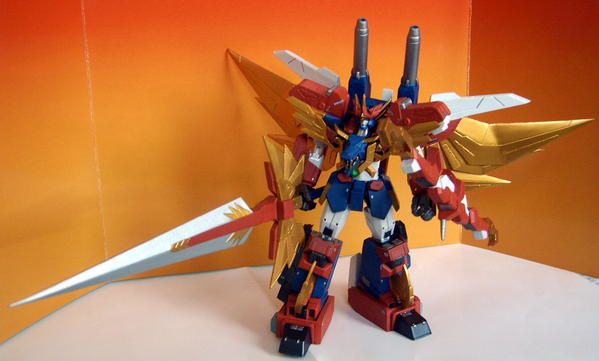 The figure is only 15 cm high to the top of head, so it's the same size as most Bandai's Gundam Fix Figuration figures, but the detail level is also the same as on these mechas, so this is some very good work from CMS. There are small flaws in the paint application, CMS has still to learn before making perfect toys; but nothing really bad, and this is a great display piece anyway. Posability is very good, probably better than on the big upcoming DX figure. Joints are rather good, but some are maybe a bit too loose (feet, arms). The right arm was a bit problematic because of the weight of the huge sword, so I had tu use some superglue to hold the hand in place. As accessories you have open and close hands, the sword and a nice bow.
Ok, enough talk, now the pictures :
1
,
2
,
3
,
4
,