Here's a new demon that joined my house today. It's a figure called Zenotic Amon, from Devilman series. This is a cheap action figure (14 $ @ Collectors Gateway, great internet shop BTW) but an awesome one anyway, and worth much more than that. Details are exquisite, you'd nearly think it's a resin kit, and paint application is really good, with purple to . I loved the sleek design, with many scales and spikes, wings that come out of some wounds, ear-wings, the small ring on left hand, and the tail ended by a jaw.
The figure comes with a nice, cabalistic base, and also a part of another 'secret' figure, that you can only assemble when you have all the sets of this serie.
There are many articulations there : hips, knees, ankles, shoulders, elbow, forearn, and even the jaw can be opened. The wings can be open or closed. The ankles are a bit loose, I've put a  drop of superglue to hold them more tightly.
I was really surprised and amazed of this figure, this is another serie I'll watch. Not going to get all figures, but probably 2-3 more (Dante, Winged Devilman...).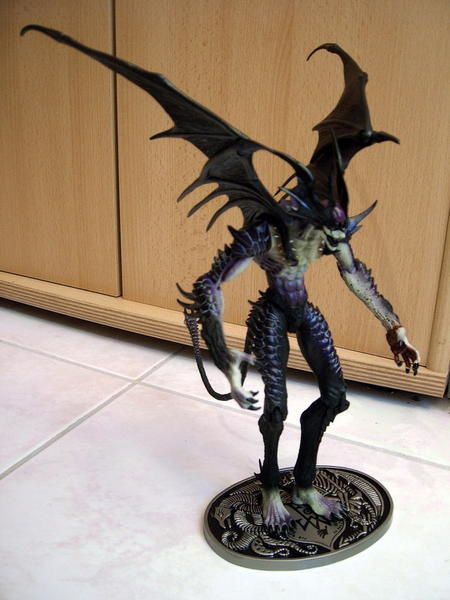 More piccies here : Side, back