As you had guessed if you follow this blog, I like collecting daemons. So it was kind of mandatory for me to get Games Workshop's latest daemon prince. It's now a kit so it's even easier to customize and there are lots of options to go with. So I choose to keep it quite basic, I didn't use any other part than these of the box, went for the 40K version with chaos marine-like parts and wings, of course, instead of the backpack. I wanted to use both but it would be too much. Maybe a few years ago I'd have put both, but I said, "Keep it simple, stupid" :).
So, also for the paint scheme, it's very classical black legion/khornate style of Black, Red and Gold with some fire-like effects coming from inside the armour and the sword.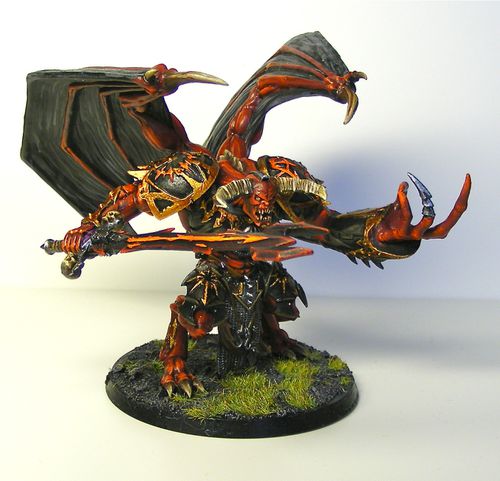 Some more views : 1, 2, 3, 4, 5
Compared to the Trollforged resin daemon lord kit, it's not so detailed and less original, but less static and it has the advantage to be usable for Warhammer 40K or Battle. About details, Trollforged is at the level of Forgeworld.
Stay tuned for the painting of the Cthulhu sculpt from Bocks ;)