Hey folks,
Kind of a resurrection today !
Silver Fox Productions Inc. will launch their new fundraising program for RAFM Call of Cthulhu 7th Edition miniatures at this link http://www.indiegogo.com/projects/call-of-cthulhu-miniatures/x/582666. The program starts today and run until August 9, 2013.
RAFM Call of Cthulhu Miniatures line provides gamers with pieces to bring life to Chaosium's classic roleplaying game of Lovecraftian horror, in which ordinary people are confronted by the terrifying and alien forces of the Cthulhu Mythos. Rafm Call of Cthulhu miniatures are had sculpted white metal miniatures which can be painted or used to represent characters and monsters duting game play. This bestselling line has won many game-industry awards and supports the Call of Cthulhu 7th Edition Chaosium Kickstarter.
This fund raising project aims to build a new edition of this classic horror miniature line and replace up to 85 miniatures in one project.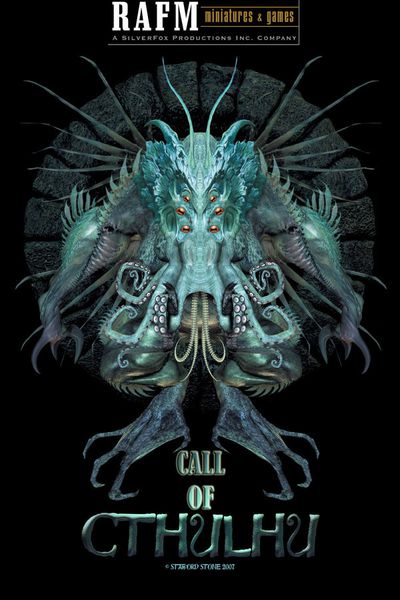 RAFM Company Inc, began producing rules and then miniatures for the gaming industry in 1979. RAFM Call of Cthulhu miniatures has probably been our most successful line. Envisioned and sculpted by Bob Murch for the Call of Cthulhu RPG by Chaosium Inc. the figures have transcended the industry and been reissued by many companies. None compare with the lasting tradition of the line. All miniatures are produced for Chaosium's Call of Cthulhu Role-playing Game and continue to be an official licensed product for the Call of Cthulhu Role-playing Game TM Seventh Edition.
I'll follow this for sure even if there's no Great Old One announced yet ;)
EDIT : this concept might prove me wrong :p