When I've seen the Genesic Gaogaigar, I longed to get one, but which one. I had long hesitations between Yujin's action figure, Max Factory chogokin or the one from CMS.
 This leads us to the articulations. The arms and knees are strong, the waist ones could be stronger, GGGG tends to fall backwards if you try to make him stand too vertical, I advise you to bend him a bit to the front. The posability isn't great, you can change the pose of the arms/hands/shoulders and of the tail, but the legs must remain like on my pictures, any other try will result in failure. A nice thing is that the jaw of the lion moves : opens or closes. The wings can be spread or not.
More pictures in the Mech & Action figures gallery !
All in all it is a great toy, I'm not disappointed, because I like the pose he's forced to get. It is obviously designed for collectors and showcase, and it this role it shines, it's an impressive display piece, more than 30 cm / 12" tall, and very similar to the anime ! But forget it if you want intensive playing…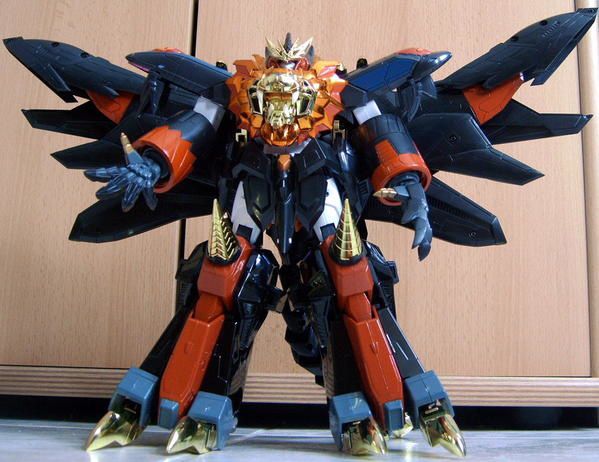 My choice went to CMS because it was bigger and cheaper than Max Factory, Yujin's seemed to have a poor finition. And CMS's one is the only one that you can actually transform.
When I got it, I was surprised by the size and weight of the box : more than 53 cm long, about 2 kg… wow. Inside the bow are the separate robots/vehicles : the two drill vehicles (legs of the GGGG), the lion headed robot (torso of the GGGG), a dolphin and a shark (shoulders of the GGGG), and the huge flying dragon/bird (back & wings of the GGGG). Plus all the accessories that appear in the serie, including my favourites: big clawed hands, Heaven and Hell.
Most of the legs and the skeleton of central robat are in metal, other parts are plastic. The arms are in soft plastic with a nice touch feeling. Other parts in plastic are nice too, not too much mold lines, except on the grey parts of the feet, just above the claws. The gold parts are very shiny, you may like it or not, I hope this will last in time. The head could have been inked to increase contrast in the white and red parts.
The assembly was quite easy, even if the notice was in japanese, the colour pictures help a lot, it ook me 30 minutes to complete it. The parts are well engineered and the transformation is quite smooth. The most difficult part was to pose the spread wings… and to pose the Genesic himself.