Hi folks ! It's been very quiet here on the blog cause it's quite difficult for me to find quiet time to paint with my buglings crawling everywhere in my house, but anyway, managed to put a brush on the new demon lord kit from my friend's Troll Forged Miniatures.
This is a high quality, highly detailed resin multipart kit, with 3 to 12 different parts to choose for the head, arms, weapons, legs, tails, so you can do thousands of variations with this model. The size of these parts is compatible with the current Games Workshop demon princes models, so for converters, it's a real bargain, as they can order parts individually on TF online store here.
Still true to my style, I obviously choose to make a Cthulhu-themed demon lord, using tentacle head, mouth body (my favourite !), the tail that I converted with the claw, wings that I cut to be shorter, and the spiky legs and arms, 2 different shoulder pads to add variety and some chaos styling. I added the scythe as weapon simply because I found it so cool :)
About the painting, nothing much to say, classic Cthulhu theme with some Nurgle inspiration.
Now picture time ;)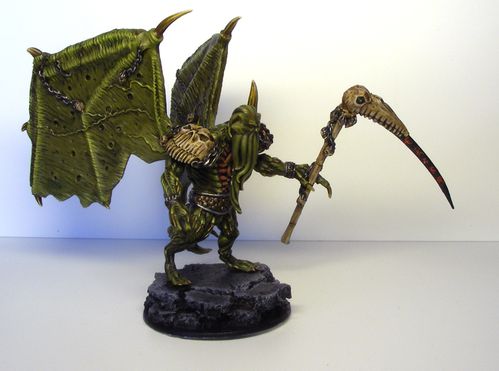 You can see more pictures here : 1, 2, 3, 4